Customize the standard, add functionality and speed up work of your talents
At Pentos Labs we always think from the perspective of the user. The employees expect from us easy-to-use and efficient software so that they can perform their tasks and enjoy working with the system.
Why not leverage the newest technologies, including machine learning and chatbots, to achieve a seamless and intelligent user experience? Our solutions add new functionality to SAP SuccessFactors and speed up the work of your talents in the system.
UX Booster Bundle
Business Case:
UX Booster is a collection of pre-built features and functionalities for SAP SuccessFactors, designed to make your daily work more effective and giving you a better user experience (UX).
UX Enhancement: Job Profile Access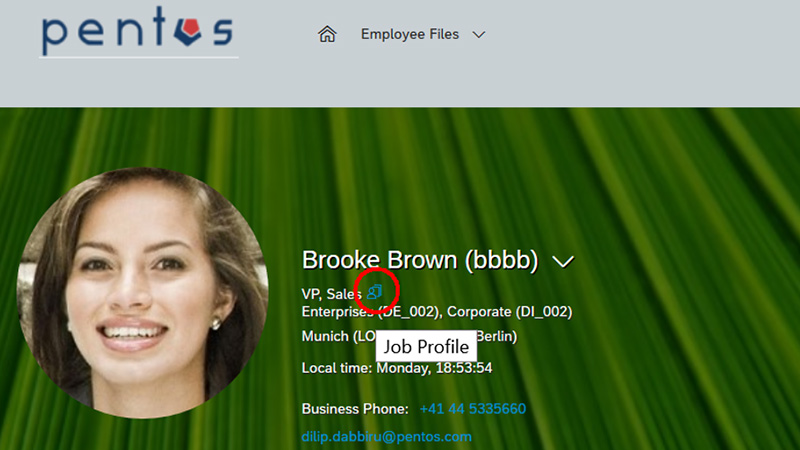 Business Case:
Job Profiles are a central building block for efficient HR Processes. SAP is investing in making them even more compelling to use with each release. Due to this, we innovated to make them better accessible.
Form Content Migration
Business Case:
Yearly Performance Management cycles offer various unique challenges. From maintaining your process timeline to ensuring all updates and adjustments are ready, yearly go-lives can be stressful. Thankfully, our Form Content Migration tool can help process-owners and admin teams alike sleep easier.
Whether it's due to delayed requirements or testing oversights, every year SuccessFactors customers find the need to edit or alter Performance Management forms after launching. Historically, SuccessFactors did not support the ability to adjust template configurations after forms have been launched… but not anymore! Thanks to our Form Content Migration solution, emergency cases where forms are launched with incorrect configurations can now be corrected without major disruptions to your process.
Our solution provides peace of mind during and after go-lives by allowing for hot-fixes to be applied to form templates even after being launched. We offer two variants of this solution, one focused around migrating the content (ratings, comments, etc) of a mis-configured version of a form to the corrected version of the form, and the other focused around applying configuration corrections directly to the version of the form that has been launched. Depending on the specific issue that needs to be addressed, we offer a full in-depth analysis of the situation and provide recommendations as to which version of the solution should be applied.
Extended Calibration session
Business Case:
In many use cases displaying data from another module of SAP SuccessFactors could bring significant benefits for the end user. With our Add-On you can display Performance data – e.g., leadership ratings – in your Calibration session to provide the user with all information needed for making the right decision.
EC Quick Hire
Business Case:
Adding a new employee is usually associated with filling in quite a few fields. Our UX extension allows to streamline and simplify the process of adding a new Hire: you need to provide basic information on the employee to create the Employee Profile and then can jump directly to the People Profile of the New Hire.
Reset Password Safety
Business Case:
Sometimes it is crucial not to add functionality but to restrict it. With the standard functionality the support team can choose between three options for resetting passwords, one of which is to reset group of user passwords. An accidental click on the wrong button here will lead to resetting all passwords for all users… To avoid this issue, we developed an extension. With our Add-On you can hide two of three options for recovering the password for your support team minimizing the risk of an error and, at the same time, speeding up the work of your support team.
Performance Individual Calculation
Business Case:
Stay within standard functionality with your Performance ratings, while customizing the way the scores are calculated and displayed. Our Add-On allows you to introduce a custom competency weighting, which depends on the user role. What is more, you can also add additional functionality for the end user: for instance, introduce a summary for the score (e.g., a traffic light), which will compare the achieved score with the expectation in a real time and accompany the user with making the right decisions.
Compensation Calculator
Business Case:
With this UX extension the user can calculate changes in his/her compensation in an interactive format. For this purpose, he/she just needs to provide information on the amount of the expected salary increase and can view all details of the new compensation scheme. What is more, the extension allows to compare the new salary with the current salary as well as view the impact of the changes considered – all this to make the compensation process intuitive and transparent.
Short-Term Work
Business Case:
Integrate new processes to SAP SuccessFactors using an applet. An interesting use case here is the introduction of short-term work at your company: with an applet you can provide your employees with all relevant information on the short-term work in a tile on the Home page, provide links to associated documents and collect their voluntary consent. It is possible to display different information depending on the legal entity and location. What is more, our extension includes a ready-to-use Admin tool for tracking the progress and creating customized exports.
Dynamic Tile Extension
Display external content on SAP SuccessFactors homepage tiles and provide users with relevant information (e.g. new to-dos) directly on the homepage. As a result, the user saves clicks and can easily identify whether there have been any updates in the tile without opening it. Our Dynamic Tile Extension allows you to fully customize the tiles: overwrite the title, display a number value, highlight the number by color, provide a hyperlink to a desired web page, display an up or down tendency indicator, show a unit / scaling factor (e.g. "$", "€", "%") or add an info text.
Custom To-Do Tile
Advance your user experience with the Pentos Custom To-Do Tile. The extension is accessed via a tile on the home page and provides an overview of all to-dos in one place, both from SAP SuccessFactors and 3rd party applications when needed. It is possible to jump from the Custom To-Do Tile directly to relevant pages (e.g. feedback form, application, document) saving clicks and working with to-dos in a truly intelligent way.
Advanced Job Offers' Overview
Provide your Works Council with all required information about Job Offers in SAP SuccessFactors. While standard functionality does not allow users to access job offers of closed job requisitions, our Advanced Job Offer's Overview extension provides a complete overview of all offers in the system. Upon request the fields in the extension can be customized to your business needs.
RBP Change Log
To dramatically facilitate the administration of Role Based Permissions (RBP), we developed the RBP Change Log extension. This extension allows to log changes in RBP settings together with the reason for each change, details and comments (when necessary). As a result, administrators get a powerful tool to maintain RBPs in an intuitive and efficient way.
Onboarding 2.0 Dashboard
Have the Onboardees done the data collection? In which step are my Onboardees? Did the Hiring Manager trigger New Hire Activities? To answer these questions, HR/Admin users usually have to perform many clicks in the system to access the desired information. We created a dashboard that gives a detailed overview on the status of the new hires. Pentos Onboarding 2.0 Dashboard allows you to report on the key information on the onboardees – process status, hire status, start and target dates, task – and react accordingly in a timely manner.
Availability Overview
Check availability of participants of a calibration session directly in SAP SuccessFactors. Our UX extension displays an additional button for the users that are creating a new calibration session and enables truly quick and intuitive sessions' scheduling. The extension sends a request to the Outlook calendar (or a 3rd party solution) and displays a green icon next to the participant's name in case the participant is available in the specified timeframe and a red icon otherwise.
CSB UX Enhancements
Boost candidate experience on your CSB-based career site with custom elements. Advance the job search functionality, customize standard elements on the career site, add new elements and features – this and much more is possible with Pentos Labs UX Enhancements.
We have more than 15 solutions for different modules of SuccessFactors. For more information visit our Marketplace!
We are passionate about user experience. You have an idea for an extension? Challenge us and see whether it is technically possible to implement your idea.
Contact Us